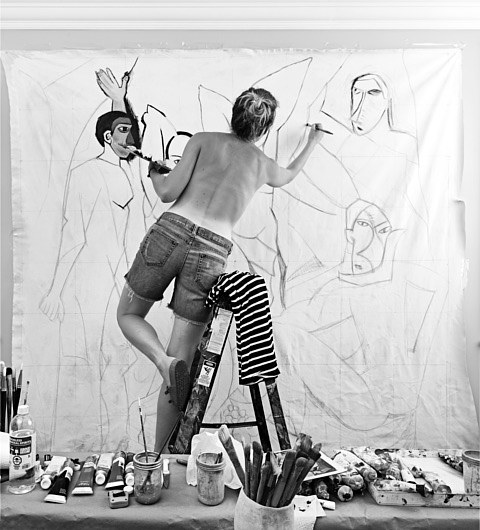 Picassa: Lady Genius Painter – an ongoing project (2016)
I have always held a critical view on the 'genius male' artist. In the Picasso archetype I often see the propping up of men by men, a type of hero-worship that presents a glaring double standard on how artists are represented in a Western art historical context. Now don't get me wrong, I may enjoy looking at the work of said artists but what I really want to know is, where the ladies at? With cynicism I began to read "A Life of Picasso; the Triumphant Years, 1917-1932" by John Richardson. This autobiography is a nearly 600 page tomb and the third volume the author has written on Picasso, published in 2005. With much eye-rolling and blatant gender inequality that perhaps doesn't account for the period, I began to image myself, a women and mother, occupying some of the situations of Picasso's life and in doing so I have created the persona of Picassa.
By employing parody, hypertexuality and borderline plagiarism, a satirical look will be offered to his story and perhaps other meaning can be brought to the text. My first act of resistance was to copy a section of the autobiography and simply flip the genders..
"Picassa started the year of 1927 with a most fortuitous event while cruising the grands boulevards in search of l'amour. Picassa sets eye on the garcon-enfant of her dreams, an adolescent blonde with blazing cobalt eyes and a well built muscled body that was the antithesis of her husband's small compact body. Murray-Terry Walter was 17 years old and for the next 9 years he would be Picassa's greatest lover. Murray-Terry recounted his first meeting with Picassa to an autobiographer before he died, some 50 years after meeting his seducer. He had been shopping for a "Peter Pan collar" and matching cuffs when Picassa had accosted him. "I am Picassa!" she announced. "You have an interesting face, I would like to paint a portrait of you, I feel we are going to do great things together." As Murray had never heard of her she took him to a nearby book store where she showed him a book all about her. Murray-Terry was impressed that she was a painter as his father had had an affair with a painter and he felt it was his destiny. He was also charmed by Picassa's flattery, his family had always ridiculed his Roman looking nose and so to hear Picassa compliment him, gave him great pleasure."
gah! 
I then proceeded to think about what Picassa might paint and decided she should complete a masterpiece, Les Demoiselles d'Avignon. Painting from the only wall I could find in my house big enough to hold the 8×8 foot canvas, (my dining room) I set out to copy the painting as close as I could but just flip the genders. The experience brought up many thoughts for me. While painting I was also taking care of my family, laundry was left unfolded on my dining room table, meals had to be made and one studio day I was called to my children's school multiple times. Picasso would never have been interrupted! The act of painting, and doing so in my domestic space became very important to the work.
ABOVE IMAGES LEFT TO RIGHT: Photo Credit Janet Kimber (www.janetkimber.com); Les Garcon d'Avignon, 8×8 foot, oil on canvas (2016)